The Fountain Podcasters Guide to Value for Value
Transform discovery, engagement and monetisation for your podcast with Fountain in seven simple steps
Autoplay Queue
Add clips and episodes to your queue and enjoy continuous playback
Playlists
Build up a collection of your favourite clips to return to later
Chapters
Jump straight into the good bits and enjoy custom chapter artwork
Apple CarPlay and Android Auto
Enjoy podcasts while you're driving using your car's in-built controls
Filter Tags
Have complete control over your podcast library with custom tags
Sleep Timer
Program the app to doze off at the same time as you
Offline Listening
Download episodes to listen to later when you're offline or have a poor connection
Notifications
Get notified when new episodes from your favourite show are released
Introduction
How do I get more listeners? How do I generate better engagement? How do I make money from my podcast? These are questions that most podcast hosts will have asked themselves at some point in their journey. When used to their full potential, Value for Value podcast apps like Fountain are the answer. Before we get into the seven steps that will help to you get the most out of Fountain, let's look at each of these questions in turn.
How do I make money from my podcast?

Most podcasts are available to listeners for free on any podcast app - which is how it should be if they are going to reach the widest potential audience. But how do podcasters monetise their content? If you have already built a large audience, you might have sponsors or ads. You might also try offering exclusive content, ad-free feeds or early access to members behind a paywall. Or you might decide to be 100% audience-funded through donations. Whatever the business model is for your podcast, Value for Value is complementary. On Fountain, your fans can show their support as they are listening by sending small units of bitcoin called sats over the Lightning Network. The value of bitcoin changes daily, but $1 is equivalent to roughly 4000 sats. If they receive a lot of value from a particular episode, they can pay more. If they weren't feeling it, they can pay less - or nothing at all. All listeners need to do is download the Fountain app, top up their wallet with a bank card and start supporting.

How do I get more listeners?

Value for Value is more than just a new revenue stream for your podcast. After all, making money may be less important than getting your content out there and reaching new listeners. As a creator, your primary purpose is to create content that your audience finds valuable. "Build it and they will come", as the saying goes. But it's not always that simple. Although you might not have the time, energy or skillset required to do effective marketing for your podcast, your most passionate fans will. On Fountain, your listeners are your marketing department. Every time they send a boost or create a clip, this activity is seen in the Fountain Discover feed. This is a powerful signal can grab the attention of listeners who may not have seen or heard your podcast before. Asking your listeners to support you on Fountain not only helps your podcast make money, but it helps your podcast grow.

How do I generate better engagement?

Value for Value allows you to build relationships with your listeners and interact with them in ways that are simply not possible through most podcast apps. Fountain offers your listeners a place where they can meet and interact with each other or reach out to you, your co-hosts and guests directly. Getting positive feedback from your listeners is also incredibly important for keeping you motivated and inspired for years to come. 90% of podcasts don't survive past episode 3, but with the support of your listeners, all that hard work you put into your podcast feels worthwhile.
The Value for Value model has the potential to transform discovery, engagement and monetisation for your podcast, but it might not be obvious where or how to get started. Here are seven steps you should follow to build a strong community of supporters on Fountain.
Step 1
Claim your show on Fountain
To get started, the first step is to claim your show on Fountain. When you claim your show, we add some code called a "value block" to your RSS feed. This allows you to start receiving money from your listeners on Fountain and any other Podcasting 2.0 apps that support Value for Value. The money simply gets sent from their Fountain wallet to yours over the Bitcoin Lightning Network. Claiming your show on Fountain also offers podcasters a range of other powerful features like splits (which allow you to share income with your co-hosts and guests), transcripts (which are made available to your listeners on Fountain for free) and promotions (which help you reach new audiences in the Fountain app). To claim your show:

Download the Fountain app on iOS or Android and create an account.

Search for your show, press the Lightning Bolt on your Show page and choose Claim Podcast.

Check the email address in your public RSS feed and enter the email address in Fountain.

Open the email we sent you and verify you own the RSS feed by clicking the link in the email.

If you're unable to claim your show, or you're not sure where to find the email address in your public RSS feed, read the article below or contact us if you need further support.
Useful links
Step 2
Tell your listeners about Fountain
If you don't let your listeners know how and why to support you on Fountain, not much will happen. Once you find the right way to do this (and do it regularly), you will quickly see your supporter numbers grow. Here are our top tips for how to ask for support.
Get your pitch right

Why should your listeners support you? What would it mean to you and how does it benefit them? If you can make your pitch clear and compelling, you're off to a great start.

Give clear directions

Your listeners might not be familiar with phrases like streaming and boosting, so it's important to explain how listeners can support your podcast on Fountain and how to top up their wallet so they can get started.

Don't ask for tips

When people hear the word "tips" they think "pocket change" so you are likely to receive smaller amounts. Simply ask them to send an amount that reflects what the content is worth to them.

Acknowledge your supporters

Reading out boost messages makes your fans feel part of the community and creates a sense of FOMO for other listeners. It can also be a great source of content and discussion.

Share Fountain links

When you release a new episode, share a link to the episode on Fountain. Make sure you include the Fountain links and a call to action to support in your show notes too. You might find it helpful to write a script that you can follow or record a short segment that you insert at the beginning or end of each episode (the same place that you would usually say something "leave us a rating and a review on the podcast app you are listening on"). Here is a tried and tested template that you can adapt.

"If you're a regular listener of the podcast, there's a really easy way to show your support and help us grow. Download the Fountain app on iOS or Android, follow [your show title] and start listening. You can share your thoughts on this episode by sending a boost (like a payment with a message) and see what other listeners have to say, or create clips of the best moments. Getting started is easy - you can top up your Fountain wallet with a bank card. Oh - and you can earn money just by listening on Fountain too. It's a no brainer. Visit fountain.fm to learn more."

Useful links
Step 3
Get familiar with splits
Splits allow you to give everyone involved in your podcast share of the income from your supporters. Whenever a listener sends you money, it gets divided and distributed to everyone listed in the splits. You can add other Fountain users to your show splits or customise your splits for a specific episode. Here are some ideas on who you can add.

Your team:

Add your co-host, producer or editor as a split and they will see payments and messages in the Fountain app.

Your guests:

This is a great way to thank them for their time and incentivise them to share the episode on Fountain when it gets published.

Your listeners:

Reward your fans for their contributions - for example, for clips they made, questions they asked or for any other help they have given you.

Good cau

ses:

Want to raise money for a project close to your heart? Just ask them to create an account on Fountain so you can split your income with them.
You can set the default splits for your show or customise splits for a specific episode by pressing the yellow Lightning Bolt and choosing Splits. Press Manage Splits and search for any Fountain user then choose the percentage you want to give them. After you've added them, a card will appear in their Wallet so they can see their income and any comments from listeners.
Useful links
CASE STUDY
Jack Spirko's podcast, The Survival Podcast, was the #7 most supported show on Fountain in 2022. Before every new episode gets published, Jack asks his guests to create a Fountain user account so that they can be added to the episode splits when it goes live. Listeners are more compelled to support and join the conversation when they know they can reach out to the guest and they will actually see their message. Also, because Jack's guests are earning money from the episode they recorded, they are incentivised to let their respective audiences know!
Step 4
Read messages from supporters
Some of the most supported podcasts on Fountain have a regular segment in their show where they read out the top Boosts from the last episode. Reading out boost messages is highly effective because:

It allows your audience to participate and join the conversation, which is great for community building.
It encourages your listeners to send more valuable question and comments (and send more sats).
It creates a sense of FOMO with your regular listeners and gives them a reason to start supporting.
It gives you an opportunity to regularly communicate how and why to support the podcast

We also recommend liking and replying to boosts in the Fountain app. Not only does this make your podcast more likely to be seen by other users in their discover feed, it also lets listeners know that their interactions are being seen and acknowledged.
CASE STUDY
At the end of every episode, hosts Marty and Matt pick a handful of the most interesting pieces of commentary from the previous episode and read them out. They give the username of the supporter, the amount they sent and read out the message. This is great source material and sparks conversations that their supporters have initiated. Rabbit Hole Recap was the #3 most supported show on Fountain in 2022.
Step 5
Create clips (or ask your listeners to)
Clips are a great way to get your podcast discovered by new listeners. Clips from your listeners are displayed on your show page under activity, but they will also be seen in the discover feed. You can also share clips as videos on social media to promote new episodes.
Create clips to promote new episodes

When you release a new episode, create clips to tease the best soundbites. You can also share clips as videos on social media.

Ask your listeners to create clips

When your listeners create clips they earn money when the clips get liked by other Fountain users. Let them know it helps you grow your show too.

Like clips from your listeners

Interacting with clips made by your listeners also make your podcast more likely to be seen by other users in their discover feed.

Reward your listeners for creating clips

Let your listeners know that if they create an awesome clip that you will add them to the splits for the next episode.

Useful links
Step 6
Promote your show on Fountain
Fountain Promotions incentivise new listeners to try out your podcast for the first time, helping you grow your audience overnight. Get your latest episodes featured on the Discover page in the app. When a user plays your promotion, they will get paid for every minute they listen. With a minimum spend of $50 and an average cost of $8 for 1000 listens, Fountain Promotions are accessible for podcasters on a modest budget too.
Choose an episode

Select which episode you want to promote or select Promote Show to automatically promote your most recent episode.

Set your budget

80% of your budget will be paid directly to listeners. The higher your budget, the longer your promotion will last. The minimum is $50.

Set your max reward

Choose the maximum amount you want to pay per listen. The minimum is 100 sats (around $0.02).

Purchase promotion

You can pay with Apple Pay or Google Pay. We will notify you by email when your pending promotion has been approved and pushed live.

Check your stats

See how many new listeners and supporters your promotion generated. We will notify you by email when your promotion has ended.

Useful links

CASE STUDY
Ian and Mandana are the hosts of the Flirting With Bitcoin podcast. Starting in December 2022, they invested a total of $1500 in Fountain Promotions and saw their audience grow exponentially. Promotions have helped them bring first-time listeners in, but Ian and his wife also remind their listeners to send a boost or create a clip to help spread the word. In June 2023, they reached 100k total downloads and have hundreds of regular supporters, with over 80% of their total audience listening on Fountain.
Step 7
Experiment with new ideas
Podcasters are pushing the boundaries with how they are adopting Value for Value in their own unique and creative ways. Here are a few examples that might inspire your next great idea.
CASE STUDY
The Mere Mortals podcast is 100% audience funded with no ads or sponsors. Their primary goal is to reach more listeners, and hosts Kyrin and Juan recognised that sending a boost is really effective at driving discovery. That's why every supporter who sends more than 100,000 sats over three episodes shows gets a free Mere Mortals shirt sent to them. Offering exclusive merch or prizes is by no means a requirement for generating interest in supporting your podcast. However, as Mere Mortals have proved, offering listeners something they can't get anywhere else in return is a great way to incentivise them to start supporting you. In 2022, they were #27 in the Fountain most supported list.
CASE STUDY
Every Friday, Adam Curry and Dave Jones livestream their podcast on Fountain, covering all the latest developments in Podcasting 2.0. Listeners can support in real time by boosting their comments and questions, which makes the experience fully interactive. Adam and Dave also have a leaderboard for the biggest boosts (known as "Baller Boosts"). Acknowledge supporters that have sent the most value back to the show in this way not only let's them know what their contribution means to you, but it gamifies the experience and makes you want to get involved.
Conclusion
Value for Value is a highly effective model for podcast discovery, engagement and monetisation. By following these seven simple steps you will be guaranteed to see results, but patience is key. Realising the your ambitions for your podcast is a marathon - not a sprint! Try and maintain a level of consistency in your approach over several months in order to establish it as regular practice. After all, new ideas can take a bit of time to catch on before they get accepted. If you're have any doubts about mentioning Bitcoin to your listeners, there is no need to go into detail - not do you need to mention it at all. No Bitcoin experience is required to start supporting you on Fountain. The most important thing is that they understand that they are sending you value in return for the value you are providing them. As we have explained, a podcasters motive to ask their audience to support them is more than just so that they can get paid. Supporting on Fountain can also be "sold in" to your audience purely on the basis that it will help bring more listeners in and give your community a place to hang out together. Try and think about it from their perspective and understand how it will benefit them - not just you. If you have any questions about getting started or need support, we're here to help. You can schedule a meeting with a member of our team here. Good luck - we are cheering for you!
Claim your show and join the new era of podcasting
Get started in just a couple of clicks. Turn your biggest fans into supporters. Pay your audience to listen and grow your reach overnight.
Blog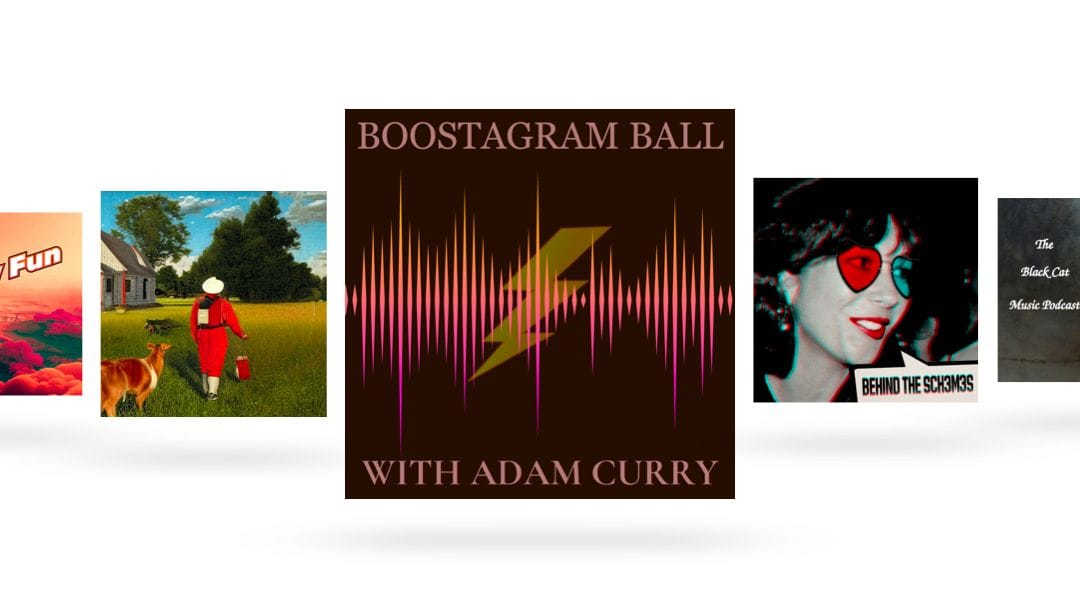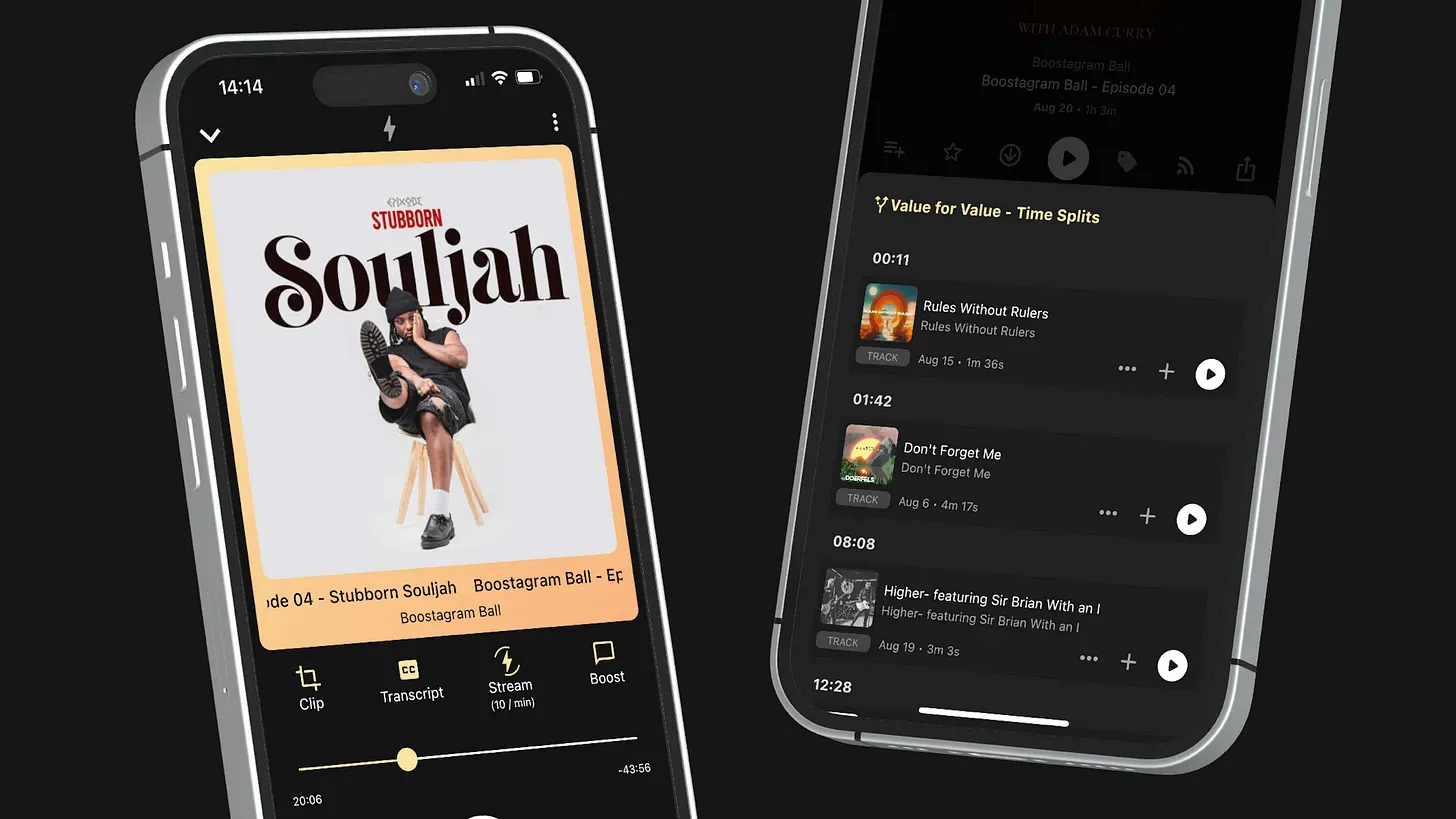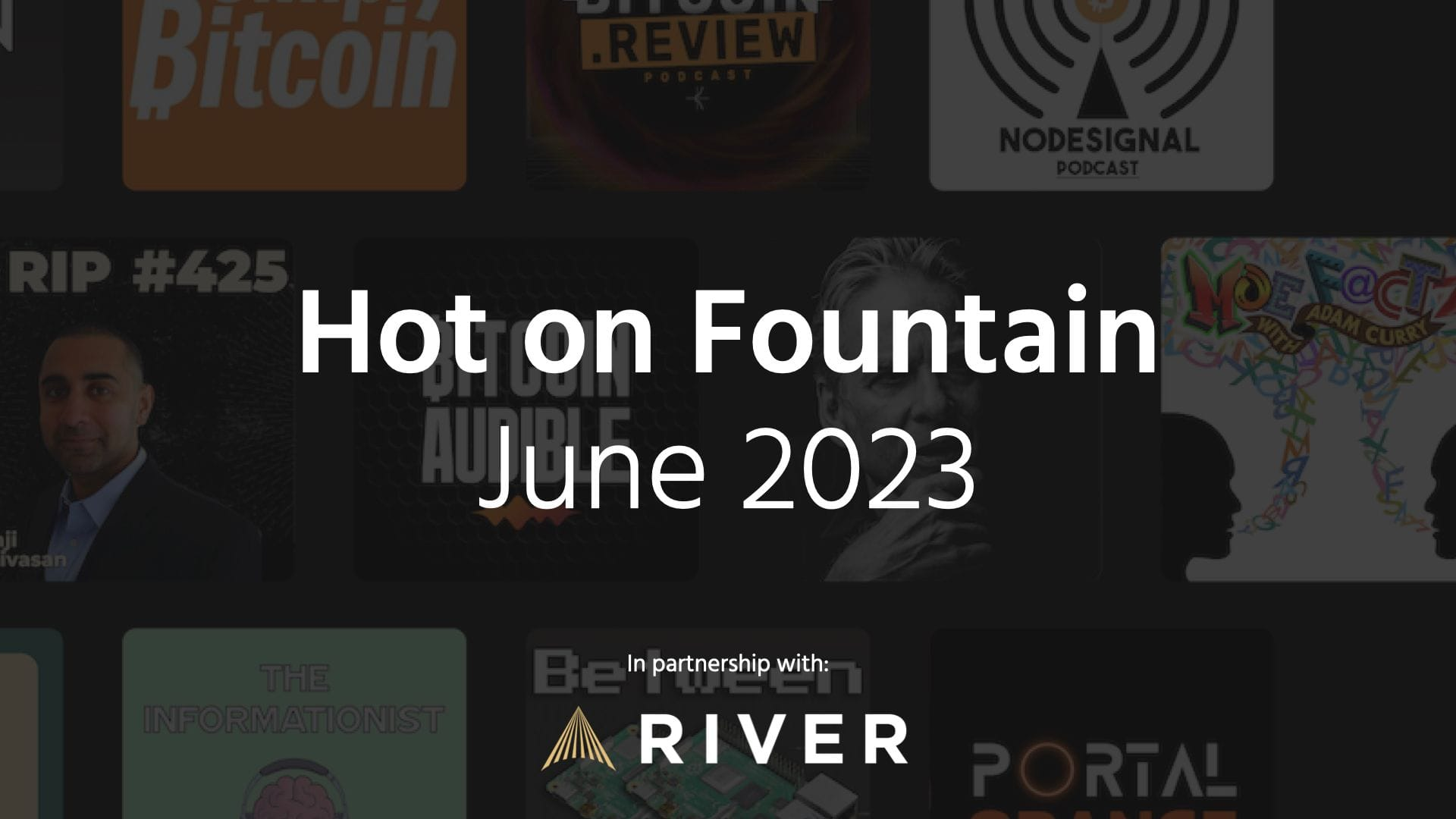 Hot on Fountain: June 2023
July 1, 2023
Some of the top shows and episodes that listeners on Fountain supported in June. Sponsored by River.